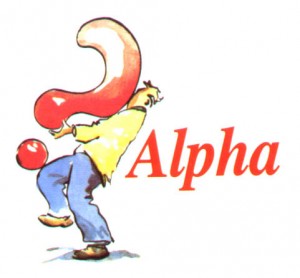 Lakeside will once again be hosting The Alpha Course.  The Alpha Course is an introduction to Christianity that is conducted in a classroom setting and encourages questions from participants.  But the Alpha Course is much, much more than an introduction to Christianity.  It is a training ground for any and every Christian.  Even mature Believers have much to gain from attending.  Topics include:
Christianity: Boring, Untrue, and Irrelevant?
Who is Jesus?
Why Did Jesus Die?
How Can I Be Sure of My Faith?
Why and How Should I Read the Bible?
Why and How Do I Pray?
How Does God Guide Us?
What Does the Holy Spirit Do?
How Can I Resist Evil?
And many more
The first session is Christianity: Boring, Untrue, and Irrelevant?  This is the introduction to the course and people are encouraged to attend just to find out if The Alpha Course is something they might be interested in.  As you might expect, this first session is so good, people usually return for the entire course!  In other words, invite your friends to attend just the first session – that's all.  Chances are, you'll see them next week for the official start of Alpha.  Even the session, "Who is Jesus," is not what you might expect.  Those who have been Christians for years, will see Jesus in a whole new way!
When: Sundays, 6:00pm, beginning January 21
Where: Lakeside Family Church